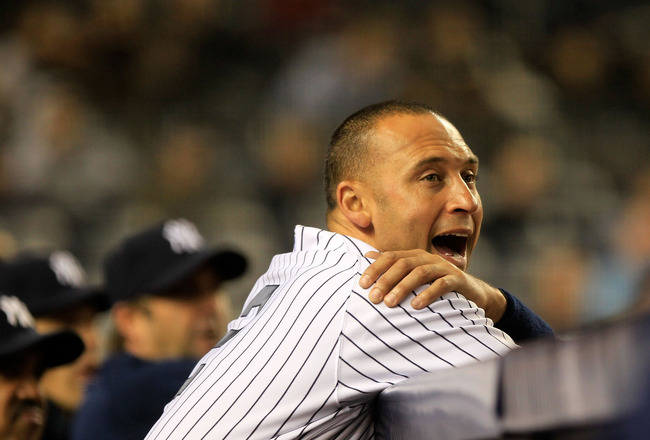 Yankee fans will have to wait a bit longer for Derek Jeter to get his 3,000th hit.  Jeter, who is currently 6 hits away from 3,000, was placed on the 15 day DL with a calf injury suffered in Monday night's loss to the Indians.  The Yankees have been Met-like with their injuries the past two weeks with Joba Chamberlain, Bartolo Colon, and Derek Jeter all going on the DL.
Jeter did not want to be put on the DL, but GM Brian Cashman ultimately decided it was the best thing to do.  Jeter is a warrior and has not been on the DL since 2003.  Jeter's age and the fact that the Yankees will be playing games in National League ball parks next week were the main factor in the decision.
The body does not heal the same way at age 36 and calf injuries can become a major problem if not given enough time to get better.  Last season Jimmy Rollins suffered a calf injury on opening day and was out for 6 weeks, and then came back and re-injured it, so the Yankees want to be safe with their captain.  Additionally, the Yankees cannot afford to be shorthanded when playing in National League ball parks with no DH and more of a need for a bench.
For those Yankee fans obsessed with Jeter's chase for 3,000 hits, they should look forward to the second Subway Series on July 1-3.  If Jeters comes back after 15 days, he would play 2 games against the Brewers and then head to Citi Field to face the Mets.  It would be very ironic to see Jeter achieve his milestone against the Mets.  Seeing Yankee fans celebrating Jeter's milestone at Citi Field will only make a Met fan sicker than they already are.
In his career, Jeter has dominated Mets pitching, winning the World Series MVP in the 2000.  My suggestion for Jeter if he were to get his 3,000th hit against the Mets would be to make sure he gets the ball back.  With the Mets financial problems the Wilpons might attempt to pocket the ball and auction it off in order to make next month's pay roll.
By Rob Bonanni